Best Practices for Safe Food Sampling at Fancy Food Show, Las Vegas '22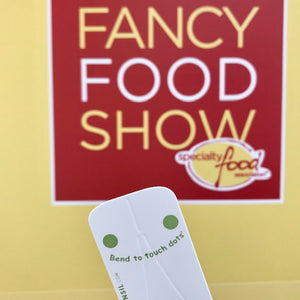 Best Practices for Safe Food Sampling at Fancy Food Show,  Winter 2022       
Comprehensive COVID precautions continue to be an important component for successful food shows in 2022 with the new highly-contagious variants in circulation. Now that Fancy Food Show Winter 2022 has moved to Las Vegas, we thought we'd provide information on how to offer the safest food sampling at your booth. 
What are the new food sampling policies for exhibitors at Fancy Food Show Las Vegas?
Delicious food sampling, exciting demonstrations, and gorgeous displays will still be the norm at Fancy Food Winter 2022 but exhibitors will be expected to conduct food tastings and demos within the confines of their booth.  According to SFA, 
"Product demonstrations and tastings are encouraged, but must be conducted within the confines of exhibitors' booths and/or at SFA sanctioned event spaces (i.e. not in aisles, common areas or in areas surrounding the Show venue)."  
Can samples be served on the show floor or should they all be wrapped as "take-home" samples?
Exhibitors can showcase their food products by offering samples in their booth or at SFA sanctioned event spaces (see above). If opting for "take-home" samples, "SFA strongly encourages the distribution of smaller, "sample sized" portions."
Do food samples need to be covered during the show?
Showcasing your food products and samples in a safe and attractive way is important for Fancy Food Show attendees.
Per the SFA guidelines, all food (and beverages) must be covered and protected from handling, coughs, sneezes, dust, dirt and vermin during transportation, storage, handling, display and service. Food samples in your booth must be protected from contamination by one of the following safety measures:
Covered, transparent sneeze guard food shield

Sample sized portions which are inaccessible to the attendees/public and served on an individual basis by exhibitor booth staff.
We recommend the SafeServe for displaying individual portions/samples under a sneeze guard/food cover. 
If you are looking for a sneeze guard that is easy refill and clean, the
EcoTensil SafeServe
shows your samples safely, clearly and elegantly. We custom designed this plexiglass food cover based on feedback and requests from our EcoTaster customers. It's perfect for showing your food samples at food shows like Fancy Food, Expo West, Expo East, and Catersource.
-  Small and portable, easily fits in your sampling area.
-  Includes a slide out tray, which is a snap to wipe clean and reload.
-  Helps buyers and show attendees to feel comfortable trying your samples under the SafeServe. 
-  is available in a 14" and 9" portable mini sneeze guard / food cover.
Serving Policy
If you are providing samples at your booth, be sure that all your booth staff have reviewed SFA's Sample & Serving Policy.
Here are some important rules to follow when offering food samples in your booth in Las Vegas:
Close supervision by Exhibitor staff member is required at

all times

during sampling on the show floor.

Instruments such as tongs or serving spoons are to be used to prevent direct handling of food.

It is recommended that food items be offered in pre-portioned servings.

EcoTaster plastic-free, compostable paperboard sampling spoons are great for plating your pre-portioned samples. Enjoy 10% OFF your order or EcoTaster Mini, Mid or iScoops for Fancy Food Show Las Vegas. Use promo code: FANCYFOODVEGAS *
* 10% OFF on up to 3 cases of our popular EcoTaster Mini or Mid (or iScoops for sampling gelato, ice cream or desserts) or with promo code: FancyFoodVegas 
Discount offer valid through 2/3/22 and does not apply to branded EcoTasters.
Instruments such as tongs or serving spoons are to be used to prevent direct handling of food. It is recommended that food items be offered in pre-portioned servings.

Food prepared at home is not permitted. All prepared food must be cooked in a local commercial facility, which has been approved in advance by the local health department. Food from unapproved sources will be condemned by the health department.

Limited on-site preparation of food is allowed. Please use designated Clean-Up Stations for all cleaning of utensils.

The use of L.P. gases such as propane & butane are prohibited. All electrical equipment must be U.L. approved (Underwriter's Laboratories).

The use of fry equipment must include a grease-shield for the machine as well as a fire extinguisher.

Alcohol is permitted only in small sample sizes and individuals must have proof of ID.
Review all of the Fancy Food Show '22 Las Vegas Food Safety and Sampling Regulations. 
Why not beautifully brand your EcoTaster paper tasting spoons for Fancy Food Show Las Vegas?
They loved your sample but will they remember your brand?
You've undoubtedly spent time, money, and great effort to showcase you brand at the Fancy Food Show so why not make your brand shine with branded tasting spoons? Leave a lasting impression with industry buyers at Fancy Food Show by branding silky-smooth, compostable, disposable plastic-free paperboard EcoTaster spoons.
Branded, plated EcoTasters look beautiful, safe, and appetizing under the required sneeze guard / plastic food guard which is required for all exhibitors at the Fancy Food Show this winter in Las Vegas.
Contact us today about getting a quote to brand your disposable, compostable EcoTaster tasting spoons.  
Request samples of beautifully branded EcoTasters.
The EcoTensil Team wishes you a very successful show at the Fancy Food Show Las Vegas '22!