Brand Every Bite at Expo West! Beautifully brand compostable EcoTasters with logo / tagline for your next big sampling event!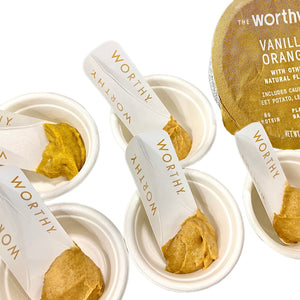 Set apart your brand at Expo West and highlight your focus on sustainability with Branded EcoTensils  
They loved your sample, help them remember your brand!
If you're using sampling spoons for demos, why not let them also send a powerful brand message?  You can beautifully brand your tasting spoons for NPEW 2023 with your color logo and/or tagline. 
Contact us today for a quote to brand EcoTaster Mini or Mid tasting spoons for Natural Products Expo West '23 in Anaheim. 
 Details on branded EcoTaster Mini or Mid sampling spoons for NPEW '23
Branded order deadline for Expo West: 1/30/23

Contact us today

 

for a branded quote!   
Which EcoTaster is right for you?  
EcoTaster Mini Sampling Spoon - The 3.25" Mini is the perfect size to use with sample cups, or to plate small-sized servings.
• Minis have an almost full-sized "bowl", making for a more satisfying bite than those tiny plastic tasters.  
EcoTaster Mid Sampling Spoon - The Mid is about 15% larger than the Mini at 3.75" long.
• Mids can be used INSTEAD of sample cups by plating directly on EcoTaster, or used with medium or large sample cups.
• EcoTaster Mid has the same size "bowl" as a teaspoon.
• The "drip-stop" fold is great for soups.
• Reduce the use of sample cups when "plating" food directly on EcoTaster.
• Have an almost full-sized "bowl," so can replace costly full-size utensils. 
• Are an inexpensive and powerful way to show customers you care about the environment.
• Save on internal shipping/storage.
Learn more about 100% compostable GreenDot EcoTaster tasting spoons from EcoTensil
Request samples of branded / bespoke GreenDot EcoTasters today
Eco-friendly EcoTasters help you sample safely at your sampling events and food shows 
No more one taste plastic waste! EcoTaster is the hip little tasting utensil that in one fun fold becomes a sturdy, pleasing scoop, perfect for a few bites.  
Our "GreenDot" sampling spoons are made from silky-smooth paperboard – like a coffee cup, but compostable, recyclable, and use 55-85% LESS material than wood or plastic. They come in tidy "Cubes" so servers only touch the handle to keep the spoon end completely clean and touch-free.