IDDBA Returns with Food Sampling & Baking Competition in Atlanta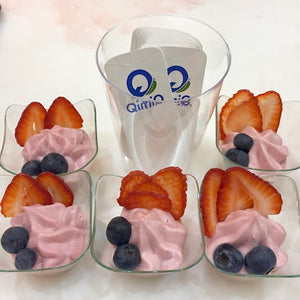 After a two year hiatus due to the pandemic, IDDBA is back! 
Food manufacturers have traditionally relied on food shows and sampling to show buyers and consumers how delicious and innovative their food products are. Food safety and sustainability go hand and hand and IDDBA 2022 exhibitors will want to showcase their best offerings.     
Taking time now to prepare a sampling program for your stand at food shows will help ensure that you are following the show and city/convention center regulations and guidelines. This will allow your hygienic food samples to be trusted and enjoyed despite the ongoing pandemic.      
Scroll down for the exclusive IDDBA22 Exhibitor Discount!
Tips to sample safely in your booth at IDDBA 2022
Many food manufacturers and retailers are using plexi food covers / sneeze guards to showcase their samples safely during the COVID pandemic.
If you are looking for a sneeze guard that is easy to refill and clean, the EcoTensil SafeServe shows your samples safely, clearly and elegantly.
Slide out tray is a snap to wipe clean and reload.

Small and portable, easily fits in your sampling area.

Customers will feel comfortable trying your samples under the SafeServe. 
Shop the SafeServe which comes in a 14" and 9" size. The 14" SafeServe is best for multiple samples at larger sampling events like food shows. The 9 inch SafeServe is perfect for in-store sampling when offering only 1-2 samples at a time.
Order an EcoTensil SaveServe today for you booth at IDDBA!
Safer Sampling Utensils  
During the COVID pandemic, sanitary disposable dispensing has become even more imperative when offering food samples. It's important that your booth visitors feel good about your food samples and  safety protocols.
Having servers repeatedly reaching into a big bag or box of loose wood or plastic spoons is not safe food service protocol, even with gloves on. Watch our video on safe sample utensil dispensing dispensing at your booth. 
Enjoy 15% OFF GreenDot EcoTaster sampling spoons (or iScoops for sampling ice cream, gelato, custard or other frozen desserts or cheese) for IDDBA 2022 with promo code:  IDDBA22 *
Hygienic Food Sampling - EcoTaster v Plastic Spoon video  
100% compostable, disposable GreenDot EcoTasters meet new trade show regulations for plastic-free, compostable service ware, including utensils/ sampling spoons.
GreenDot EcoTaster tasting spoons come packed in handy re-closable, hygienic, ultra compact  "cubes" for easy dispensing!
Avoid cross contamination with GreenDot EcoTaster paper board sampling spoons. The EcoTaster 'Cube" allows for easy and hygienic dispensing during Covid safety regulations.
Compostable, recyclable plastic-free GreenDot EcoTaster paperboard tasting spoons:
are made from silky-smooth plastic-free, FSC* paperboard.

stay clean in their re-closable, hygienic, ultra compact "Cube".

allows servers to only touch the handle end of EcoTasters, not the spoon end (as with a big bag of plastic or wood utensils).

do not have a negative effect on the taste of the sample, as can wood.
Enjoy 15% OFF GreenDot EcoTaster sampling spoons (or iScoops for sampling ice cream, gelato, custard or other frozen desserts or cheese) for IDDBA 2022 with promo code:  IDDBA22 *
What can you sample with a GreenDot EcoTaster?  Just about anything!
How to order 100% compostable plastic-free GreenDot EcoTaster sampling spoons for IDDBA 2022 and beyond
Order direct from www.ecotensil.com or contact us about volume EcoTensil pricing for your booth. 
Enjoy 15% OFF GreenDot EcoTaster sampling spoons (or iScoops for sampling ice cream, gelato, custard or other frozen desserts or cheese) for IDDBA 2022 with promo code:  IDDBA22 *
Request samples of branded EcoTasters or other EcoTensil paperboard cutlery