Composting service ware is easy peasy at Natural Products Expo East!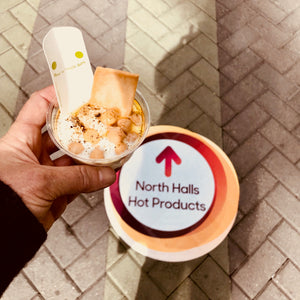 Composting your food scraps and demo and service ware at the Natural Products Expo East in Baltimore is a no-brainer! Expo East producers, New Hope Network, have made it seamless and easy with their 'Exhibitor Sustainability Guide' and convenient Eco-Stations which will be set up around the Convention Center.
Composting Your Food Waste & Sampling Utensils in 4 Easy Steps
Be sure to review the  Sustainability Program Page from New Hope Network for more details on what the program looks like and to fill out the survey to participate.
Step One: Order 100% compostable sampling spoons, utensils & paper soufflé cups in advance of show.  Grab 10% OFF compostable future-friendly EcoTasters with promo code:  NPEE18 
Step Two: Create clearly-marked Compost bin(s) in your booth for compostable sampling spoons, paper soufflé cups, wooden toothpicks and food waste from sampling and food demos.
Use these handy printable Compost labels.
Reminder: Be sure to line your Compost bin with a compostable bag. We love using green BioBags as our compost bin liners at trade shows and farmers' markets.
Step Three: Deposit ALL your demo ware and sampling utensils, soufflé cups, wooden toothpicks, and food waste in your Compost bin(s). No separating or costly sorting needed. Keep your booth at least 2 ft back in your booth so show attendees don't accidently toss in non-compostable items such as plastic spoons, wrappers, etc.
Step Four: Dispose of your booth's compost bin contents at one of designated Eco-Stations with designated waste stream stations within the Baltimore Convention Center. Remind any event cleaning staff that the bin contents are all 100% compostable!
Composting - It's in the Bag! 
By using compostable demo ware in your booth at Expo East, ALL sampling utensils can go into this one handy Composting Bag from EcoTensil. That means no separating or sorting at the show. Reduce one-taste plastic waste by using fully compostable demo ware in your booth like paper souffle cups, wooden toothpicks and EcoTaster sampling spoons.