Recycle Bin Resources for your Deli or Business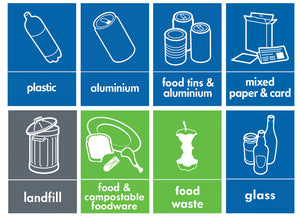 There is a bin for that . . . 
By providing easy-to-use recycling stations around your workplace or retail store, you can make it easier your co-workers and customers feel positive about doing the right thing. Here's a few of our favorites recycling bins and tools:
Recycle the Coffee Pods Over 55 million single-serve coffee pods are thrown away every single day. If your coworkers might revolt without their fave morning Joe from coffee pods, consider ordering this handy CoffeeCapsules - Zero Waste Box' from Terracycle in your break room. Once this nifty box is filled with coffee pods, simply UPS it back to TerraCycle using the pre-paid UPS shipping label. Easy peasy!
Recycle Gloves & Hairnets? Who knew there's a box for that! Use latex or nitrile gloves or hairnets in your food production or deli departments? You'll want to add these handy recycling boxes to your recycling line up:
Disposable Face Masks - Zero Waste Box™
Just select your box size and when it's full, bring it to any UPS location or schedule collection using the pre-paid UPS shipping label already affixed to your box. When TerraCycle receives your box, they'll safely recycle all of the collected materials. 
Deli / Food Prep Area
Make sure your recycling area bins are well marked with proper plastic recycling decals. We like these sticker decals from IGNIXIA. 
And don't forget the composting stickers for all of your kitchen food scraps!
Check out the Rubbermaid Commercial Products Waste Stream Label Kit or these easy recycling, trash and compost sign decals from Amazon.