Retro Trend Alert: Gourmet ice pops, designer gelato on a stick paired with the innovative PopTray by EcoTensil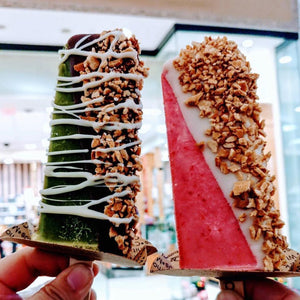 Stick-held foods and frozen desserts have always been popular treat at amusement parks and sporting events due to their convenience and novelty. The gourmet ice pop and gelato or sorbetto-on-a-stick trend continues to grow in popularity with vegan, cold brew, and alcohol ice pops also growing in popularity.    
As more food manufacturers are creating exciting new "on-a-stick" snacks and frozen dessert options, the EcoTensil PopTray has gained popularity for its mess-free simplicity plastic-free footprint. Consumers are also influenced by environmentally-friendly and socially responsible brands.
Ten years ago, the EcoTensil product team was asked by customers to develop a sturdy ice cream scoop to replace the small plastic ice cream sampling spoons. The Eco iScoop by EcoTensil now is available in 100% compostable plastic-free certified AquaDot paperboard.
 The extra sturdy iScoop by EcoTensil was made for scooping ice cream, gelato, frozen yogurt, and custard.
Another more recent customer-driven invention is the eco-friendly  EcoTensil PopTray®, designed to not only catch popsicle drips but also gourmet toppings.
The EcoTensil PopTray®, comes packed in a bulk Case of 12,000 Compostable Popsicle Drip Guards has become a much loved staple at international retailers like PopBar across and US and Canada.

Simply slip the PopTray onto your ice cream or popsicle stick and voila! no more sticky drips on hands or shoes or toppings on the floor!


PopTrays are made from unbleached, compostable kraft paper board and measure 3 1/2 inches x 2 1/4 inches and includes a slit for a wood popsicle/ice cream stick.

Our unique PopTrays can be beautifully branded to include brand logos, tag lines and interesting quotes or sayings.
A beautifully branded PopTray for PopBar, which includes favorite quotes.
Adding PopTrays to your line of ice pops or gelato or yogurt on a stick, will be sure to bring smiles to your customers - young and old!