Rise & Yum - Savory GF Harvest Cinnamon Roll Oat Muffin in a Sustainable Grab-&-Go Bowl with an EcoSpoon by EcoTensil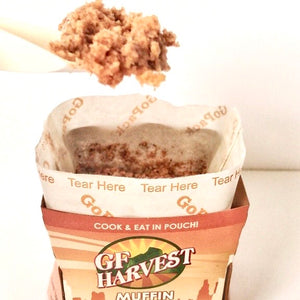 From the Rise & Yum Blog
*note: this is not a sponsored post. I just really, really, like this brand*

This past weekend, I was fortunate enough to attend the GFAF Expo, the country's largest Gluten Free and Allergen Free Expo. Although, I do not have allergies or gluten intolerance, I am always looking for great brands, items and recipes that cater to those who do, so that I can feature them on the blog! There were a ton of great vendors in attendance – my feet were hurting at the end of the day! My focus was visiting and chatting with brands who would specifically cater to breakfast needs. I have my top favorite brands and am so excited to share more with you in later blog posts. My top choice for breakfast ideas comes from GF Harvest, a family owned company who focuses on trustable gluten-free oat products. Since Rise & Yum focuses on putting the FAST in breakfast, GF Harvest's Savory Cinnamon Roll Oat Muffin is definitely a winner in my book! If you like your breakfast warm, quick, delicious and made from trusted ingredients, keep on reading!
Why I love this product, and why you would too is that it comes in a "cook and eat in" pouch, so you literally can take this anywhere and can be made in just one minute. Yep. One minute. And the best part is that it comes with an adorable eco-friendly spoon, so no need to find or lug a spoon with you. This Savory Cinnamon Roll Oat Muffin is your definition of a healthy, to-go breakfast option! If this isn't convenient for you, then I don't know what else you need…
Literally all you need to do is:
tear top of the bag

pop open the package

add 1/4 cup of milk or water (i used milk)

stir with the provided spoon

microwave for one minute

And voila! A warm and delightful one minute muffin is all yours!
According to GF Harvest, this Savory Cinnamon Roll Oat Muffin is "made from gluten free oat flour, and other gluten free ingredients.  Certified gluten free, certified non-GMO ingredients."
Good stuff, right?
In addition to their great products, I got their assortment pack, they have a great story as to why they started this company: [Read More]

I am all for brands who really understand the true meaning behind their products and only want the best for their consumers and alike.

On a closing note, I really was tempted to add a scoop of vanilla ice cream on top of the warm muffin. Ice cream for breakfast (I have done it before!)  
https://riseandyum.com/savory-cinnamon-roll-oat-muffin/