Food Sampling at NPEE '21: what you need to know regarding safety and sustainability for your sampling program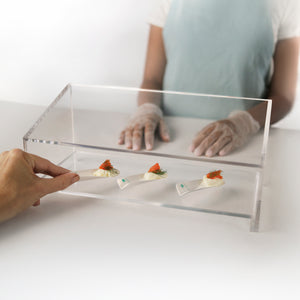 What are the New 

Safety and

Sustainability

 Regulations for 

Food

 Sampling at Expo East '21?   
Your NPEE '21 booth has been designed and finalized. Promos and PR plans are ready for action. But is your sampling program compliant with the new Expo East food sampling regulations? 
EcoTensil is here to make your food demos and sampling safe and successful at this year's NPEE. Read more for the latest, including innovative product suggestions for booth compliance.  
What are the new NPEE rules for safe food sampling?  
In compliance with the Philadelphia Health Department, New Hope Network is requiring all open samples (prepared or cooked) to be served in individual portions and will also require gloves, a face mask, hairnet, a sneeze guard or food cover.
Open samples may be served in individual portions under a sneeze guard or food cover.  
If you are looking for a sneeze guard that is easy to refill and clean, the EcoTensil SafeServe shows your samples safely, clearly and elegantly.
-  Slide out tray is a snap to wipe clean and reload.
-  Small and portable, easily fits in your sampling area.
-  Customers will feel comfortable trying your samples under the
SafeServe. 
Does each booth need a hand washing station and sanitation kits?
Yes, per the Expo East Sampling Regulations, all exhibitors that are sampling MUST have both hand washing station(s) and sanitation kits. This includes soap, 2+ gallon bucket to catch gray water, paper towels, and warm water (at least 100 degrees) on demand.
Note, hand sanitizer/wipes are not sufficient for sampling. Hands of booth staff servers should be washed often.
Washing Station Bucket
We like this collapsible rectangular bucket which is a good shape that won't infringe upon booth space, and collapses nicely for transit and nightly stow away. We've used this same bucket ourselves and can give it the thumbs up. 
Water dispenser
Here is a 5 Gallon, Insulated Hot Water Dispenser by Pearington or this more basic 5 Gallon, Igloo Heavy-Duty Table Top Hot/Cold Water Dispenser.
Alternatively, this camping sink/wash basin with soap dispenser includes a convenient foot pump and will keep your booth tabletops clutter-free at Expo East.  
We love the all-in-one design including an attached recovery tank that won't spill.
Safer Sampling Utensils 

During the COVID pandemic, sanitary dispensing has become even more imperative when offering food samples. Its important that your booth visitors feel good about your food samples and  safety protocols.
Having servers repeatedly reaching into a big bag or box of loose wood or plastic spoons is not safe food service protocol, even with gloves on. Watch our video on safe sample utensil dispensing dispensing at your booth. 
EcoTaster compostable, plastic-free paperboard sampling spoons are uniquely packaged in their re-closable Cube for safe and sanitary sampling.
Read all of the Expo East 2021 Health and Safety Information for a successful show.   
What type of service ware meets sustainability rules at NPEE in 2021?
Under the "Code of Conduct, Rules" section on the Exhibitor Resources page of the NPEE website:
"Plastic sampling cups, utensils or other vessels are not permitted on the show floor. We will be requiring companies exhibiting and sampling on the show floor to use only compostable, edible or reusable options. This does not apply to the brand packaging for the exhibitor's products." 
Compostable, plastic-free EcoTaster sampling spoons are perfect for sustainable food sampling at Expo East '21. 
EcoTaster Cube containing 500 compostable, paperboard EcoTasters
Additionally, NPEE is offering a carrot by "encouraging all exhibitors at Natural Products Expo "to take the Sustainability Exhibitor Survey to showcase what your company is doing for people and planet".
Exhibitors who meet the sustainability suggestions will be recognized as an official "Sustainable Brand" for several various media exposures.
Here are the food service related items on their list:     
• "Use only compostable or recyclable service ware for samples and give-a-ways."
• "Request additional booth bins for recycling and compost collection"
EcoTaster Benefits:    
Fully compostable and recyclable

Uses 25% of the material of plastic or bioplastic for a tiny carbon footprint. 

Feature "pure taste" of your product: no crackers needed!

Say goodbye to plastic waste and harsh taste of wooden utensils. 

Ultra space-efficient - in shipping, storage & disposal.
On top of that, EcoTensil is offering 15% OFF* up to 3 cases of EcoTasters or iScoops for ice cream, gelato, or frozen desserts with promo code: ExpoEast21!  Order Now
*  Discount valid through Sept 1, 2021.