GOING GREEN at the Deli - From utensils to meat, a change is in the air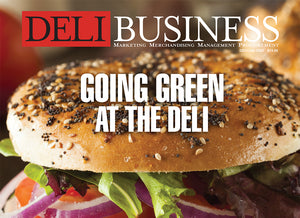 By Bob Johnson, DELI Business Magazine (December 2019-January 2020)

The deli is turning green.
How far or how fast the change will go is anybody's guess, but the trend toward both packaging and foods that are easier on the environment is real, and this is far more powerful than a fad. Plant-based alternative 'meat' slice products are already in some delis, and interest in this growth category by well-financed concerns suggests more are on the way. There is a rise of conscious eating, whereby consumers are looking for products and ingredients grown or manufactured in a manner that reflects one's own beliefs and preferences, according to the Madison, WI-based International Deli Dairy Bakery Association's (IDDBA) What's in Store 2019. Sales of organic products continue to grow as well as interest in alternatives, such as plant-based proteins. 

The report also noted that transparency is among the top consumer-driven trends, which encompasses local, organic, sustainable and ethical foods as well as a desire for clean labels.Retailers are looking for cleaner labels that convey 'green,' a nebulous term that generally includes organic, fair trade and free range.

Making a Green Statement
One of the most definitive ways to make a green statement is in the materials used for packaging and utensils. Styrofoam is already so yesterday and plastic may be soon to follow as a material not suited to these environmentally-conscious times.
"We are seeing a lot more interest in sustainable utensils," says Peggy Cross, founder of EcoTensil, Corte Madera, CA.
"It's coming from the big retailers; it's not being forced on them by government regulation. We have increased every year since we started in 2010; when things change in this business, it's for the long term.

EcoTensil's flagship product is an award-winning compostable paper taster that uses one-fifth the space of other tasters and is widely used for sampling at major retailers, including Target, Costco and Whole Foods.
"What rises above all of it is just useless material, whether they are compostable or not," says Cross.
"Our products use 55 to 85 percent less material. It's easy for companies to go with eco tasters for sampling. It's just a few bites, and it's very visible. It's an easy way for companies to show their customers that they care about the environment and reducing plastic." The European Union has an outright ban on plastic utensils scheduled to go into effect in 2021, according to Cross, and on this side of the pond there is growing consumer interest in reducing plastic.

The Green Consumer
There is mounting evidence that more consumers are looking to eat foods that are healthier, fresher and produced in environmentally responsible ways. "It is important to address the use of petroleum-based plastic and virgin wood fiber in single-use disposable foodservice ware versus compostable materials, such as sugarcane bagasse, bamboo fiber and bio-based plastics," says Marinozzi. "With over 28 million tons of petroleum-based plastic ending up in U.S. landfills each year, and human activity testing the limits of our planet's bio-capacity, we need to find better alternatives to everyday single-use plastic and polystyrene disposables."
There is a significant potential market reward for a deli that can convey the message they have gone green. There is also already a growing market for environmentally friendly utensils in the supermarket deli.
"Next year we will be doubling in size, especially with the change in Europe," says EcoTensil founder Cross.
"We're opening a warehouse in the Netherlands." European regulations may be a harbinger of greener packaging in blue states and localities on this side of the Atlantic. "With the ban on single use plastic becoming effective in the EU by 2021, we have been seeing a huge demand from that side of the pond," says Cross. "I've been to numerous trade shows, done in-store research and talked to quite a few industry people over there."
Many localities have already banned the use of Styrofoam by retail outlets, including delis, and the next wave in green packaging could target reduction in tree-based products as well as petroleum-based. "In addition to reducing our use of petroleum-based plastics, using sustainable paper alternatives can make a measurable and significant reduction in the environmental damage caused by our tree-based products," says Marinozzi.
[Read full article from DELI Business News]