It Is Easy Being Green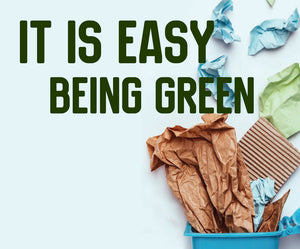 The rise of sustainability is becoming more prevalent in the deli
There was a time not too long ago when sustainability was a buzz word among niche groups and companies, but over the last decade, the concept of going green has really hit home with both consumers and food manufacturers as well as the stores that carry food products.   Millennials especially are more interested in products that are good for the environment, and that's why more stores and deli departments have made a strong commitment to be environmentally conscious. Peter Gialantzis, fresh vice president, vendor management for KeHE Distributors LLC, headquartered in Naperville, IL, says as a distributor, the company aspires to carry a differentiated product mix for delis. "The best way for us to do that is to be on the front side of emerging trends, and there is no other larger trend than sustainability," he says. "Stores are aligning themselves with forward-thinking vendors who are concerned about sustainability."   David Gremmels, "Mr. Blue" at Rogue Creamery, headquartered in Central Point OR, says the company looks to make a sustainable difference one wheel at a time, ensuring its cheese products are environmentally friendly. "It's in our DNA. In making the fi ne cheese we do, it allows us the opportunity to give back socially and environmentally, and we hope to set an example for other like-minded business leaders to do the same," he says. "Our goal is to give back more than we take to sustain future generations. We think about this in every business decision we make. That includes holistic land management and rotational grazing to lowering carbon and rewarding teammates for riding bikes to work or carpooling."   Packaging Matters Industry insiders agree that recyclable content and even post-consumer recycled content are trending, and manufacturers and retailers that are looking to differentiate themselves are moving into compostability.
For example, some delis are utilizing non GMO corn-based and other plantbased packages like bulrush for the salad bar, hot bars and soup bars, while reusable containers are showing up at many more forward-thinking stores. Reusable bowls and plates are also starting to gain some share in this area, and bulk bags for soup are on the rise, whereas in the past these would have been smaller plastic versions. Packaging that uses the least amount of materials to protect food and is easy to recycle/compost with clear instructions on how to do so is becoming more prevalent. Packaging labeled "Biodegradable" means it will end up in a landfill. Only products labeled 'compostable' can be composted. Amber Mahin, fresh senior director of   COVER STORY When it comes to packaging, Nanhekhan says the most important thing is that every producer looks for the most sustainable foil. "We are constantly working on improving our packaging material," she says. "This includes providing thinner and lighter foil, but also biodegradable material." Say No To Plastic Peggy Cross, CEO and founder of EcoTensil, based in Corte Madera, CA, says there is diametric opposition between the two super-trends of Millennial demand for grab-and-go packaging and the growing focus on reducing plastic waste. "EcoTensil bridges that distance," she says, explaining that the company offers sustainable tasting spoons and iScoop lids. Creating a more sustainable utensil has been a real challenge in the deli space, so EcoTensil reinvented the spoon/spork from scratch. Instead of trying to emulate a skinny utensil shape that depends on an indestructible material to provide strength, EcoTensil products use a renewable paperboard similar to a soda cup. The design includes a board neck and one simple fold to create a sturdy and pleasing spoon/ scoop utensil. There's been a significant change over the past two years in consumer demand for reducing single-use plastic waste in the food retailer industry. Whereby EcoTensil was once just sold to the natural/organic food sector looking for compostable/recyclable sampling options that didn't detract from the flavor of the food as wood does; now it has expanded tenfold due to the move toward going green. "The specialty foods people adopted us soon after, because EcoTasters also offered such a pleasant sampling experience with their foods and elegant plating opportunities and the utensils are very compact and efficient," says Cross. "Now, due to the rapidly-growing awareness about the vast amounts of single-use plastics accumulating in the environment, we're seeing consumers across the board letting their dislike for such plastic be known on social media and in their actions." In response, more mainstream retailers like HEB and Whole Foods are finding good non-plastic alternatives to plastic straws, plastic utensils, plastic bags and over-packaging in plastic. "We are seeing retailers in Europe really step up to shopper demands for reductions in single-use plastic waste," says Cross. "For example, Dutch retailer, Ecoplaza, launched their #PlasticFreeAisle early this year, which has given rise to a new focus on plastic waste and pollution with shoppers and the industry press."
Going Green=Saving Green?   One of the things some delis consider when thinking about making sustainable choices is the cost involved, but the high prices of running a sustainable business are not what they once were, and in the longrun, the ROI is strong. "Going green can save money for delis in the case of reusable containers," says KeHe Distributors' Gialantzis. "The consumer is educated and expects that, so for consumer growth, it generates money through sales and margin growth; it's making the store money. They are competing with other retailers and fast casual restaurants, and the entire industry is going there. Anyone that isn't, will be left behind in terms of reputation and sales growth." Cross believes being greener can save money when delis use fewer materials, such as paper napkins or small waxed-paper squares in lieu of a plate. The real question is, can delis profit more? "We're seeing early adapter retailers who are addressing the single-use plastic waste issue receive accolades from shop pers and the press for their plastic waste reduction efforts," says Cross. "European retailers have been more responsive to shopper demands for more sustainable options and packaging, but we're starting to see some U.S. retailers take steps also." Sabert's Figueiredo notes that if communicated as part of a brand image, going green can help the ROI of a store. "Whole Foods is a great example," she says. "They target consumers who care about the environment, have locally-sourced food and use organic ingredients [in prepared foods]." Nanhekhan shares that sustainability initiatives will always give delis a better reputation, which in turn should lead to more customers s and an uptick of rings at the register.   The Right Message   While there is a clear pro-sustainable stance by many customers, it's still important for delis to let their customers know exactly what they're doing and how they are following through with an environmentally-friendly mentality. "Clear signage is a must, not only in the deli, but also at the point of purchase," says Mahin. "I think there needs to be education and demonstrations. Customers are pro-sustainability, but they are still learning, and it's up to the retailer and manufacturer tto help educate those customers." Cross notes delis need to not only visibly reduce single-use plastics in the store, but be visible with sustainability efforts, and this includes using packaging that visibly reduces plastic everywhere at the retail level or display signs that say "recycle" or "compostable." Otherwise, how will customers know? "Post signage around the store and parking lot, and communicate via social media to let your shoppers know about efforts to reduce plastic pollution and reducing food waste," she says. "Scale back on what ends up in the landfill and make the deli a haven for sustainable shoppers."
Other Initiatives There are plenty of things that delis can be doing to improve their carbon footprint, and it only takes some time and the commitment to get things right. Implementing a food waste compost program in deli departments is an obvious step in the right direction and is less complicated and costly when food scraps can be tossed in with compostable service ware (such as compostable EcoTasters, wooden toothpicks, paperboard soufflé cups, parchment paper, etc.). However, having employees sort food scraps along with utensils can be time-consuming and costly. Cross notes that as more local cities, such as San Francisco, Seattle and New York, require food waste composting, delis (like restaurants) must implement new food waste composting. It's best to think of it not as a chore, but as an important service to the community and the environment. In the UK, the retailer Morrisons has introduced a new points-based system for its "Bring Your Own Container" to the deli department, which saves customers money and entitles them to special deals. The store also received a positive response from shoppers by inviting local egg suppliers to reduce waste and packaging and swapping out plastic bags with recyclable brown paper bags. "We're seeing retailers focus on excessive plastic packaging and carbon footprint reduction by inviting local farmers and specialty food makers into their stores for sampling events and special promos," says Cross. "Online grocery retailers cannot offer these types of local interactions."
---
Also in News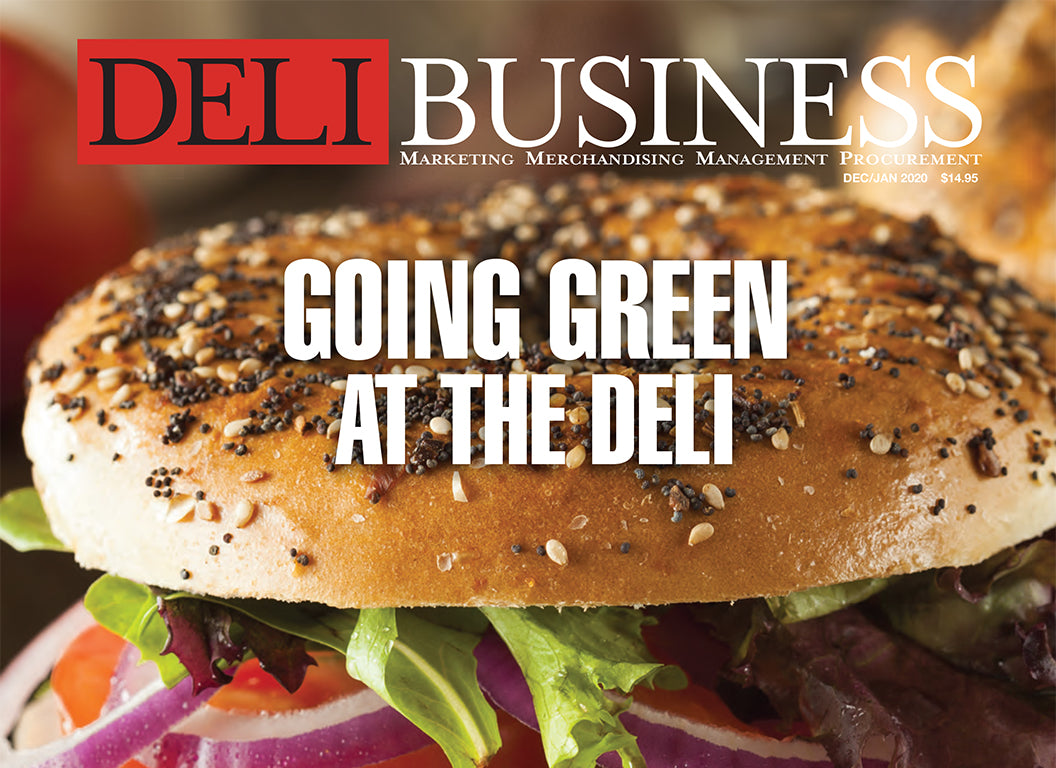 EcoTensil's flagship product is an award-winning compostable paper taster that uses one-fifth the space of other tasters and is widely used for sampling at major retailers, including Target, Costco and Whole Foods.