Food Sampling at NPEW '22: What you need to know regarding food safety and sampling guidelines for Anaheim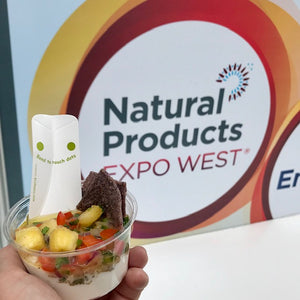 COVID has certainly changed the landscape of food trade shows. Today there's a real need to make attendees feel good about sampling your products and highlight the steps you've taken to offer the very safest food sampling at your booth.      
Are there new guidelines for food sampling at Expo West '22 and are they different from Expo East '21?
Yes, the New Hope Network has teamed up with the Orange County Health Care Agency to ensure that NPEW '22 achieves the highest level of food safety and sampling at the event in March. This includes food safety advisors who will be walking the show floor of Expo West in order to provide exhibitors with health and safety resources and advice, and if necessary, corrections. Exhibitors will also see more hand washing and dish washing stations throughout the show floors, along with more hand sanitizing stations throughout the convention center. These new precautions are being put into place with the ultimate goal of having the safest and most successful NPEW ever.  
Dessert Hummus sampling with GreenDot disposable, compostable, plastic-free EcoTaster tasting spoon at Expo West. 
Do exhibitors need to use sneeze guards / food covers in their booths? 
Yes, sneeze guards and/or plastic food coverings are REQUIRED to protect open food products from contamination and germs. These sampling tools also reassure attendees of show safety measures. 
If you are looking for a sneeze guard that is easy to refill and clean, the EcoTensil SafeServe shows your samples safely, clearly and elegantly.
Slide out tray is a snap to wipe clean and reload.

Small and portable, easily fits in your sampling area.

Customers will feel comfortable trying your samples under the

SafeServe. 

Shop the SafeServe which comes in a

14"

and

9"

size. The

14" SafeServe

is best for multiple samples at larger sampling events like food shows. The 9 inch SafeServe is perfect for in-store sampling when offering only 1-2 samples at a time.
Are there any rules about sample or portion sizes for Expo West?
Yes, there are many new rules around sample sizes and serving food samples to attendees. We suggest that you have all of your booth staff read the NPEW Food Sampling Guidelines.
Sample Size  
Bite size food samples must be four (4) ounces or less.
Also, exhibitors may only serve or sample food/snack/novelty products ONLY when the product is the brand name of the manufacturing exhibitor or distributed by the Expo West exhibitor.
Note, if an exhibitor is sampling items not produced by the exhibitor these items must be purchased from the exclusive caterer of the Anaheim convention center. Learn more about Anaheim catering services here.
More about serving/passing out your product samples on the show floor
All food must be dispensed in single service quantities. In addition, all samples must be served in single portions using such items as napkins, EcoTasters, a single service cup or tooth pick.
Plating Your Samples Under a Food Guard / Sneeze Guard
Your samples can still look delicious and safe when plated on a mini or mid-sized, paper tasting spoon. Skip the sample cup and save money by plating your samples directly on EcoTasters. 
Safer Sampling Utensils 
During the COVID pandemic, sanitary disposable dispensing has become even more imperative when offering food samples. It's important that your booth visitors feel good about your food samples and  safety protocols.
Having servers repeatedly reaching into a big bag or box of loose wood or plastic spoons is not safe food service protocol, even with gloves on. Watch our video on safe sample utensil dispensing dispensing at your booth. 
100% compostable, disposable GreenDot EcoTaster tasting spoons are an Expo West and GES approved 'EcoProduct' for sampling at Expo West '22. Learn more  
Does each Expo West booth need a hand washing station and sanitation kits? Won't hand sanitizer work?
Yes, per the Food Sampling Guidelines, ALL booth staff must wash their hands before handling any food or beverage, utensil, or single service items. Utensils such as tongs or gloves must be used when handling food or beverage. No bare hand contact with food or surfaces!
All exhibitors that are food sampling MUST have both hand washing station(s) and sanitation kits. This includes soap, 2+ gallon bucket to catch gray water, paper towels, and warm water (at least 100 degrees) on demand.
Note, hand sanitizer and hand wipes are not sufficient for safe food sampling during a pandemic. Hands of booth staff servers should be washed often.
Washing Station Bucket
We especially love these collapsible rectangular buckets for booth hand washing stations:
Eyliden Multi-use Collapsible Bucket/Water Pail (2.6 Gallons)  
SAMMART 20.8L (5.49 Gallons) Collapsible Rectangular Handy Bucket
The rectangle shape won't infringe upon booth space, and these buckets collapse nicely for transit and nightly stow away. We've used this same bucket ourselves and can give it the thumbs up.
All-in-One Sink
Alternatively, for a larger Expo West booth, this camping sink/wash basin with soap dispenser includes a convenient foot pump and will keep your booth tabletops clutter-free. We love the all-in-one design including an attached recovery tank that won't spill and is easy to drain.  
What type of service ware meets sustainability rules at NPEE in 2021?
Natural Products Expo has shifted to eliminate single-use plastics in 2022. Under the new New Hope Network Natural Product Expo Sustainability Rules; "Plastic sampling cups, utensils or other vessels will no longer be permitted on the show floor, [exhibitors are] to use only compostable, edible or reusable options...".
Note, this does not apply to the brand packaging for the exhibitor's products. We suggest your Expo West booth organizers read all of the new sustainability guidelines.
GreenDot EcoTasters meet Natural Product EXPO's newest regulation for plastic-free, compostable service ware, including utensils/ sampling spoons.
Compostable, recyclable plastic-free GreenDot EcoTaster paperboard tasting spoons:
are made from silky-smooth plastic-free, FSC* paperboard.

stay clean in their re-closable, hygienic, ultra compact "Cube".

allows servers to only touch the handle end of EcoTasters, not the spoon end (as with a big bag of plastic or wood utensils).

do not have a negative effect on the taste of the sample, as can wood.
Enjoy 10% OFF GreenDot EcoTaster sampling spoons for Expo West with promo code SAFESAMPLING22 *
* 10% on up to 3 cases of our popular EcoTaster Mini or Mid (or iScoops for sampling gelato, ice cream or desserts) or with promo code: SafeSampling22 
Discount offer valid through 1/21/22 and does not apply to branded EcoTasters.
Why not beautifully brand your EcoTaster paper tasting spoons for Expo West? 
They loved your sample but will they remember your brand?
You've undoubtedly spent time, money, and great effort to showcase you brand at Natural Products Expo West so why not make your brand shine with branded tasting spoons? Leave a lasting impression with industry buyers at Fancy Food Show by branding silky-smooth, compostable, disposable plastic-free paperboard EcoTaster spoons.
Branded, plated EcoTasters look beautiful, safe, and appetizing under the required sneeze guard / plastic food guards.
Request samples today of beautifully branded EcoTasters.