Interview with Peggy Cross, Founder & CEO of EcoTensil: All about iScoop for Gelato, Ice Cream & Frozen Desserts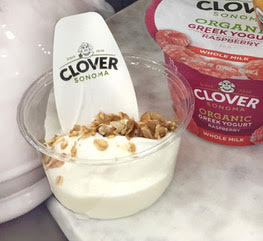 Peggy Cross, CEO / Founder of EcoTensil, maker of sustainable cutlery recently had an interview about her innovative design for the paperboard Eco iScoop for ice cream, gelato, and from desserts. 
EK: So how can a paperboard ice cream spoon actually work. 
PC: [Chuckle] Yes, it does seem curious. But think about it, you drink steaming hot liquid out of paper; a paper cup. Paper has the capacity to be extremely strong, its really all about using the exactly right material and physics.    
EK: Tell us how you developed the iScoop. 
PC: It was really the ice cream industry that pushed us. 
At first people thought I was crazy when we launched the first ever paperboard cutlery in 2010. But we were determined to offer an alternative to plastic utensils that was sturdy and really featured the food beautifully. 
EcoTaster took off and became the "gold standard" tasting spoon at food shows and sampling events. Companies looking for plastic-free utensils embraced EcoTensil in part because it doesn't negatively impact the taste of their product - as wooden utensils do. At the massive NPEW with its 80,000 exhibitors, over 50%-60% of exhibitors using utensils were using EcoTasters. Not only do people love the "No more one-taste plastic-waste" aspect of EcoTensil, they also love how beautifully it features their food, as well as being compact, simple and fun to use.
Early on, numerous ice cream makers requested a sturdier EcoTaster for ice cream and gelato. So we got to work engineering one.  We worked with them and refined the shape, structure, scoring and materials; resulting in the iScoop, which can cut through all but the hardest ice cream. 
EK: Are iScoops and EcoSpoons SUPD (Single-Use-Plastic-Directive) compliant?
PC: Our long-lasting AquaDot range is plastic free, SUPD-compliant, compostable, recyclable and uses PEFC certified paperboard. 
GreenDot EcoTaster sampling spoons, which are perfect for a few bites, are recyclable, ASTM D6868 compliant for compostability and are FSC certified.
EK: So what foods do iScoops work best with?
PC: In addition to gelato and ice cream, iScoops also work easily for Torta della Nonna and other firm desserts, soft cheeses, fudge etc.
For full-sized servings of softer ice creams, thick shakes, gelato, frozen yogurt, or desserts like Tiramisu, and cake, we offer the full-sized EcoSpoon, which works for a wide range of to-go foods like thick soups, stews, deli salads, rice dishes and any other scoopable food.
 EK: People are trying to figure out how to start safely serving foods post-Covid. How is EcoTensil addressing this?
PC: Hygienic dispensing is now imperative. Servers reaching into a bag of loose utensils is not hygienic. iScoops come packed in tidy rows in sleeves, so the server need not touch more than the handle of one utensil. The reclosable trays keep the remaining spoons clean. EcoSpoons and iScoops can be ordered individually wrapped.
EcoTensil may be hygienically attached to single serve packaging in numerous ways, so a customer can enjoy touch-free access to a utensil for on-the-go eating.
EK: Pretty much nothing is as cheap as plastic, is there value added with iScoop?
PC: Picture your brand message emblazoned on every bite your customer takes! Clover Sonoma, an organic dairy based in Sonoma, California, branded iScoops for trade show and sampling events around the country for their recently launched new line of organic ice cream and yogurts. 
EK: You're replacing ubiquitous plastic tasting spoons, what about all the plastic spoons on packaging? ...Consumers love grab-and-go convenience.
PC: Oh yes! My background and passion is packaging. The first iterations of EcoTensil were specifically for packaging, the goal was providing convenient yet sustainable utensils for packaging for the growing grab-and-go market. 
Ice cream companies needed a greener spoon for single-serve cups. One solution we developed is the PopOut, which is the iScoop and the tab-lid in one.
Also, EcoTensil offers a range of on-package utensils in various configurations, including wrapped and folded, designed for easy application to most packaging, even a roll top paper lid, yogurt cups, deli trays... 
EK: Where do you see EcoTensil going from here?
PC: EcoTensil sells hundreds of millions in North America. We're seeing sky-rocketing interest for packaging in Europe, and also from the travel and leisure industries, including airlines, amusement parks, aquariums, zoos, cruise ships, who want to offer to-go treats sustainably and hygienically. 
Learn more about Eco iScoop by EcoTensil
Request samples of the Eco iScoop