The Packaging Predicament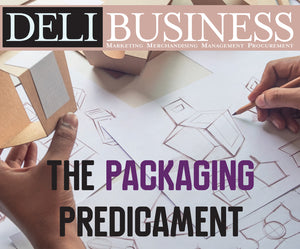 As deli department offerings have evolved, so has the packaging used to contain its food offerings. Much of this is in response to the current trends in prepared foods. For example, the meal kit market is predicted to grow substantially through 2022, according to a report by Radiant Insights, which is expected to have a big impact on containers and packaging.
"Just in the last year, we are seeing more retailers competing for their share of the 4.7 billion meal kit industry by introducing their own version of meal kits, either partnering with a meal kit provider or creating their own signature program," says Rebecca Casey, vice president of marketing and consumer market development at TC Transcontinental Packaging, Montreal. "In-store meal kits meet the needs of on-the-go consumers that have little time to search for recipes, shop for groceries or measure each ingredient."
Sustainability also continues to be a focus with deli product packaging, and for good reason. About one-third of an average dump is made up of packaging material, according to a study by the University of Southern Indiana in Evansville. Every year, each American throws out about 1,200 pounds of organic garbage that can be composted. The United States is the top trash-producing country in the world at 1,609 pounds per person per year.
"Our focus, and what we're seeing others in the industry focusing on, is trying to determine how to reduce plastic usage in packaging while still keeping food safe, fresh and appealing to consumers," says Peggy Cross, founder and chief executive of EcoTensil, a Corte Madera, CA-based company
A Sustainable Focus
Probably the biggest emphasis in the packaging industry overall is sustainability. As a result, there have been recent developments on the material side as well as with designs to minimize the impact on the environment.
With the continued reduction of plastic use, a number of companies are seeking greener materials that are recyclable, compostable and marine degradable.
One recent development is plant-based plastics. Although these don't break down in the ocean, they are compostable in industrial facilities and a step up from traditional plastic. Called PLA or polylactic acid, this biodegradable, bioactive thermoplastic aliphatic polyester is derived from renewable biomass generally from a fermented plant starch, such as corn, sugarcane or sugar beet pulp.
"PLA is better than poly-based plastic, since it comes from plants instead of petroleum, but it only breaks down in industrial compost facilities and not in the ocean or in nature," says Cross at EcoTensil.
"Paperboard with SFC or SFI certification is preferable, because the paper is coming from certified, sustainably-managed forests. We are seeing an industry shift toward development of more affordable barrier paperboard that has truly compostable and/or recyclable capability, as this is a potentially Holy Grail solution for much deli packaging."
Paperboard is becoming more common in Europe for the production of salad trays and sandwich containers.
"Consumers are demanding sustainable products that are recyclable or compostable," says Casey at TC Transcontinental Packaging. "They wish to contribute to a better environment, starting with what they consume. However, they are also asking to understand how recycling works, and how they can make a significant impact. There are definitely opportunities to educate them on the topic."
Bans on certain materials mean the changeover to sustainable alternatives may not be optional for long. In response, there have been a number of production changes to accommodate the evolving market.
"Thermoformed packaging helps maintain longer shelf life and can be recycled into something new," says Skogen. "At Placon, we are taking post-consumer PET bottles and thermoforms and processing them back into a usable PET, FDA food-grade approved package for salads, sandwitches and other deli products."
Recent Innovations
New technology and material innovations have been instrumental in the development of packaging that meets the necessary criteria.
At this year's Packaging Innovation trade show in London, there was a big buzz around the EU's ban on single-use plastic, which will be implemented by 2021.
"In response, I think we'll see a big impact in the United States with even more innovation," says Cross at EcoTensil.
"There will be more pressure here to reduce plastic in packaging. It's wise to pay attention now so retailers are not suddenly trying to play catch-up in complying with new regulations or more sudden shifts in consumer demand."
Much of the conversation is centered on compostable versus recyclable materials. While both methods are environmentally friendly ways to handle waste and keep it out of landfills, composting turns organic waste into usable materials, while recycling takes manufactured product and turns it into something that can be reused. There are different capabilities and regulations, depending on the municipality with both.
Still, changes in materials that impact packaging can be swift, as with the recent plastic bag and straw bans.
"Consumers also are becoming more aware regarding misleading communications," says Cross. "In the past, they might have looked at a spoon that's beige and assumed it's sustainable when it's not. Consumers are wising up, and their demands can happen fast, as we've seen with bags and straws, or the very public outcry around specific companies."
Retailers are looking to be a destination and provide the consumer with an experience to drive traffic in-store. They are also looking for packaging that can be used in online grocery pick-up and delivery.
"Besides convenience and portability, retailers also have to look at the size of packaging. Households, especially Millennials, are now just one to two people and represent two-thirds of all U.S. households," says Casey at TC Transcontinental Packaging. "They are more and more looking at reducing their food waste, which smaller packaging could allow them to do."
TC Transcontinental Packaging has created a couple lines geared for deli and designed with consumers' needs in mind. Its Hot N Handy bag for chicken uses perforation and film technologies and features a pouch to keep product fresh and juicy in a typical heated display case at the grocery stores. It also can be reheated in the microwave and is leak proof. Its Oven N Done bags were developed to offer supermarkets the opportunity to package fresh seafood or poultry meals with vegetables using their own stores' chef-inspired recipes, spices and seasonings. The bag, offered in black or a brown Kraft design, can go directly in the oven or the microwave.
Pactiv's Earth Choice brand is made out of recycled PET. The square-shaped containers are available in 8- to 64-ounce sizes. The company also offers two polypropylene containers in large and medium sizes for hot bars or grab-and-go sections.
According to Pactiv's Spencer, smallsized rotisserie chicken packages are getting bigger.
"Smaller-size containers are getting a bit larger to have extra capacity for more protein," he says. "Also, because today's packaging needs to enhance what's inside, clear lids are important to allow more product visibility."
Tight lids, leak resistance and tamperevidence features are becoming standard on today's deli product packaging, as well.
To meet market needs, Placon recently launched a new GoCubes product line that offers an 8-inch packaging option that is designed for salads and meal kit single or two-person portions. They are equipped with one to four insert tray compartment options that hold wet or dry ingredients to be added during meal preparation.
"When consumers are ready to prepare their meal, they simply remove the lid from the GoCubes, add any insert tray ingredients, and their meal is ready to eat," says Skogen. "GoCubes also can work with our SnackCubes packaging that allows for smaller ounces and portion control."
Placon's HomeFresh Entrée line features a microwavable and vented lid option for reheating and on-the-go convenience.
With the packaging segment continuing to evolve, it's essential to keep an eye on changing trends, regulations impacting materials and new products that may be game changers in the department. DB
---
Also in News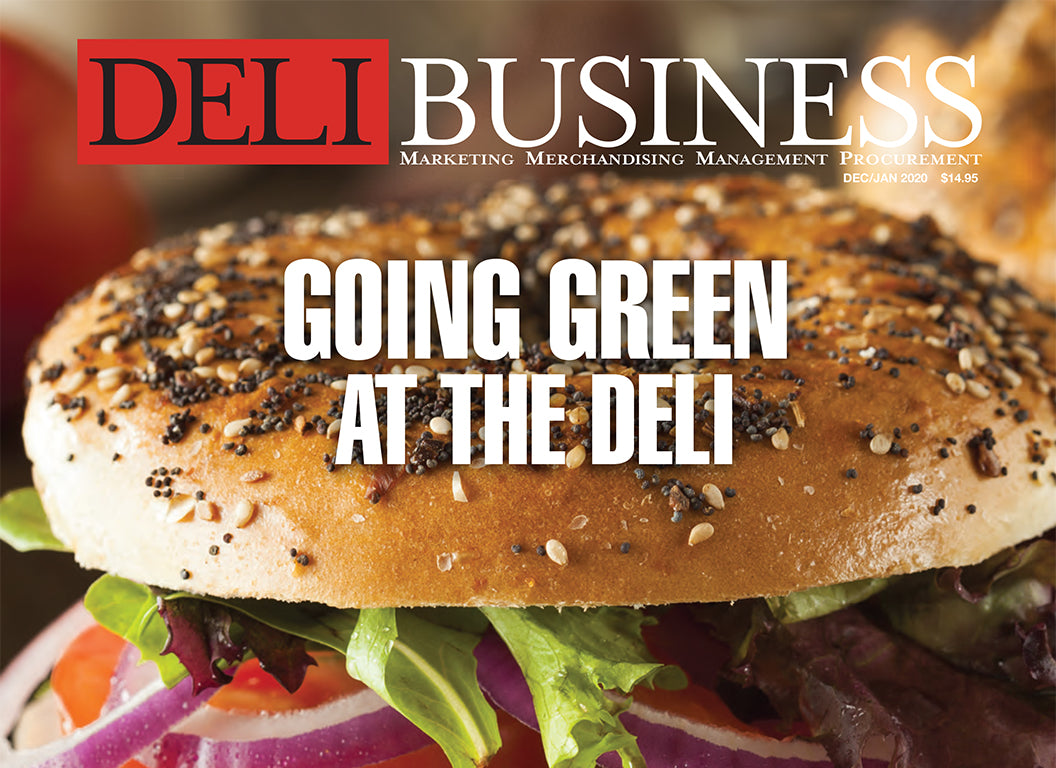 EcoTensil's flagship product is an award-winning compostable paper taster that uses one-fifth the space of other tasters and is widely used for sampling at major retailers, including Target, Costco and Whole Foods.