EcoTensil wins 2021 FSC Leadership Award with innovative EcoTaster cutlery to consumers and food retailers looking for a sustainable alternative to plastic cutlery.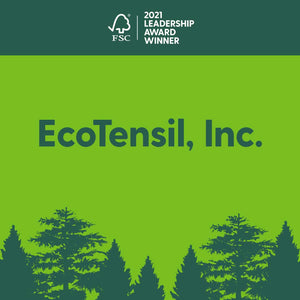 EcoTensil awarded the 2021 FSC Leadership Award from the Forest Stewardship Council, the world's most trusted forest certification system, for offering innovative cutlery to consumers and food retailers looking for a sustainable alternative to plastic cutlery. 
The annual FSC Leadership Awards from the Forest Stewardship Council recognize uncommon excellence that advances responsible forest management and forest conservation. The leaderships awards were determined from a panel of judges, based on comparisons of all nominations received and in consideration of the overall FSC marketplace. 
EcoTensil was nominated by our third-party certification partner, SGS Global Services, for offering innovative cutlery to consumers and food retailers looking for a sustainable alternative to plastic cutlery.
EcoTensil makes sturdy plastic-free cutlery for packaging, food service and sampling – and we've been a leader in folding paperboard utensils for over a decade, and signify their products as "Future-Friendly Utensils." In one fun fold, their pleasingly smooth FSC paperboard utensils transform into the most sustainable, efficient, brandable utensils available. 
Revolutionizing the food industry 
GreenDot EcoTaster sampling spoons are FSC®-certified and made from compostable, recyclable plastic-free paperboard. 
Founder and CEO of EcoTensil, Peggy Cross says, "In the food sampling sector our motto is "No more one taste plastic waste! It doesn't make sense that we're using a sampling spoon for literally 2-3 seconds, which will then persist in our environment for centuries. Our utensils come from sustainably managed forests, and can return to compost to complete the full cycle."
The unique, patented design of the EcoTasters make them durable enough for all types of food sampling (both hot and cold). EcoTensil pioneered the use of paperboard spoons for food sampling at food events and trade shows and EcoTasters have rapidly replaced plastic, bio-plastic, and wood sampling spoons. Chefs love to use GreenDot EcoTasters because they don't change the taste of the food, which is most important to chefs and food innovators.
100% compostable, plastic-free EcoTasters have become the gold standard for sustainable food sampling at shows like Natural Products Expo West and East, Fancy Food Show, and Good Food Marketplace and Mercantile events. Roughly 60% of exhibitors using utensils for sampling in their booths, use GreenDot EcoTasters for their in-booth food sampling. This means that all other types of utensils (plastic, bio-plastic, wood, etc) make up the remaining 40%. One of EcoTensil's key objectives early on was to make "one-taste" single-use plastic sampling utensils obsolete and we exceeded those goals. This exposure to the food manufactures and retailers at foodshows has helped EcoTensil launch into the high volume on-package utensils applications as well.
FSC Leadership Awards celebrate forest owners, builders, architects, retailers, paper mills, manufacturers, environmental organizations and many others who contribute to the movement toward responsible sourcing and forest management.
"The depth and breadth of the award winners this year is truly inspiring," said Chris McLaren, Chief Marketing Officer of FSC US. "With growing concerns about climate change and biodiversity, these leaders show that responsible forest management and sourcing are critical parts of any sustainability initiative."   
Read more about the 2021 FSC Leadership awards from the Forest Stewardship Council and SGS Global Services. 
Request samples or get more information about EcoTensil cutlery for food service and packaging.